BMus (Hons) Popular Music Performance
There are no boundaries between performance, production, and composition on this course. Versatile musicians - keen to develop professional delivery and technical skills - flourish at the University. Our students go on to achieve fulfilling and diverse careers in contemporary music. 
Performance, production, and composition are integral to this degree course. We recruit musicians to the principal studies of vocals, keyboard, guitar, bass guitar and drums, giving performers the confidence to create original music and thrive as working musicians.
This dynamic course develops your musicianship through specialist 1:1 vocal/instrumental tuition, a range of band performances, and learning from diverse visiting musicians covering all styles of music. We boast purpose-built music facilities that simulate the industry, including a 240-seater auditorium, nine sound-proofed live rooms, and recording studios with elite mixing desks.
Our experienced tutors and visiting industry speakers support and stimulate the development of your technical skills. You will be expected to clearly evidence your musical creativity, individuality, and originality through real-world experience and industry networks. Our students benefit from being in Leeds – a city steeped in musical history and host to an array of world-renowned performance venues.
Our vibrant community facilitates working with other creatives such as writers, graphic designers, fine artists, visual communicators, photographers, fashion designers, animators, filmmakers, and creative advertisers. This is a unique opportunity to build crucial networks and an impressive musical portfolio from the outset of your professional life.
Click here to watch a sample lecture from the Course Leader, Dr Tom Attah, to get a feel for the course.
Note: We do not accept deferred entry for the BMus (Hons) Popular Music Performance course.
Fundamental concepts of popular music performance, production, and composition are introduced through practical music-making. Delivery is key, so you will participate in Ensemble Performance Workshops, perform on stage, in the recording studio, and as an individual, whilst receiving expert 1:1 guidance from experienced staff. The first year also integrates song-writing, arranging, stagecraft, music production, and entrepreneurial activity.
BMus (Hons) Popular Music Performance students have access to bespoke music facilities to support their studies including: 24-track analogue/digital recording studio; fully-integrated studio live/ensemble rooms; auditorium with full live PA and lighting rig and sound-proofed instrumental teaching rooms.
Computer suites house networks of Apple Mac computers featuring regularly updated, industry-standard software for a wide range of creative applications that support all our courses. All suites use equipment consistent with that used in the creative workplace. A purpose-built specialist library is open to all students and includes Digital Collections to enhance the learning experience as well as the University archive. Self service facilities are available throughout, supported by a dedicated and experienced team of library staff.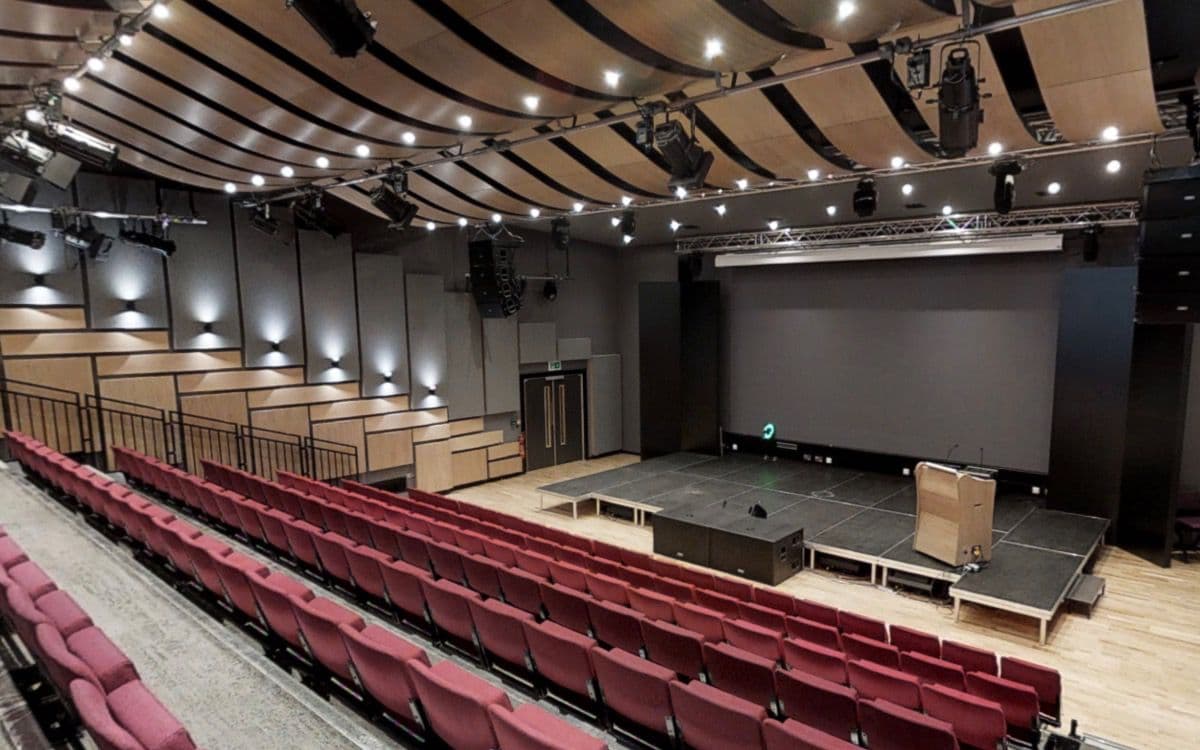 BMus (Hons) Popular Music Performance
Virtual Tour
Recently, students have performed at notable Leeds music venues including the O2 Academy, Belgrave Social and Oporto, and collaborated and performed with the Royal Northern College of Music session orchestra. Students also worked with Skin from band Skunk Anansie and Chancellor of Leeds Arts University, who led a masterclass and provided valuable feedback to our students. Previous Industry Speakers have included: Emma Stakes (A&R, Nashville, New York), Kelsey Gill (X Factor), Liam Craig (Radio 1 airplay), Jason Bowld (Bullet for My Valentine), Scott Devine (international bass educator), Donavan Hepburn (ELO, Take That), and Joe Glossop (Tom Jones, Van Morrison, Laura Mvula). Students have also benefitted from previous masterclasses and talks from: Rockfield Studios, Monmouth, Jon Stewart, Sleeper, Imogen Heap (award winning singer, musician, song-writer, composer and record producer), Taz Modi (ambient and strings), Juice Aleem (rapper, writer), Magick Mountain, The Ivors Academy, Polydor Records, PRS, Damian Morgan (manager and promoter) Futuresound, Lins Wilson and Fran Stocks.
Graduates will be ready to pursue careers as artists, musical directors, and session, touring and theatrical musicians as well as arrangers, songwriters and producers. Graduates may also continue to postgraduate study.
Connecting you to creative industries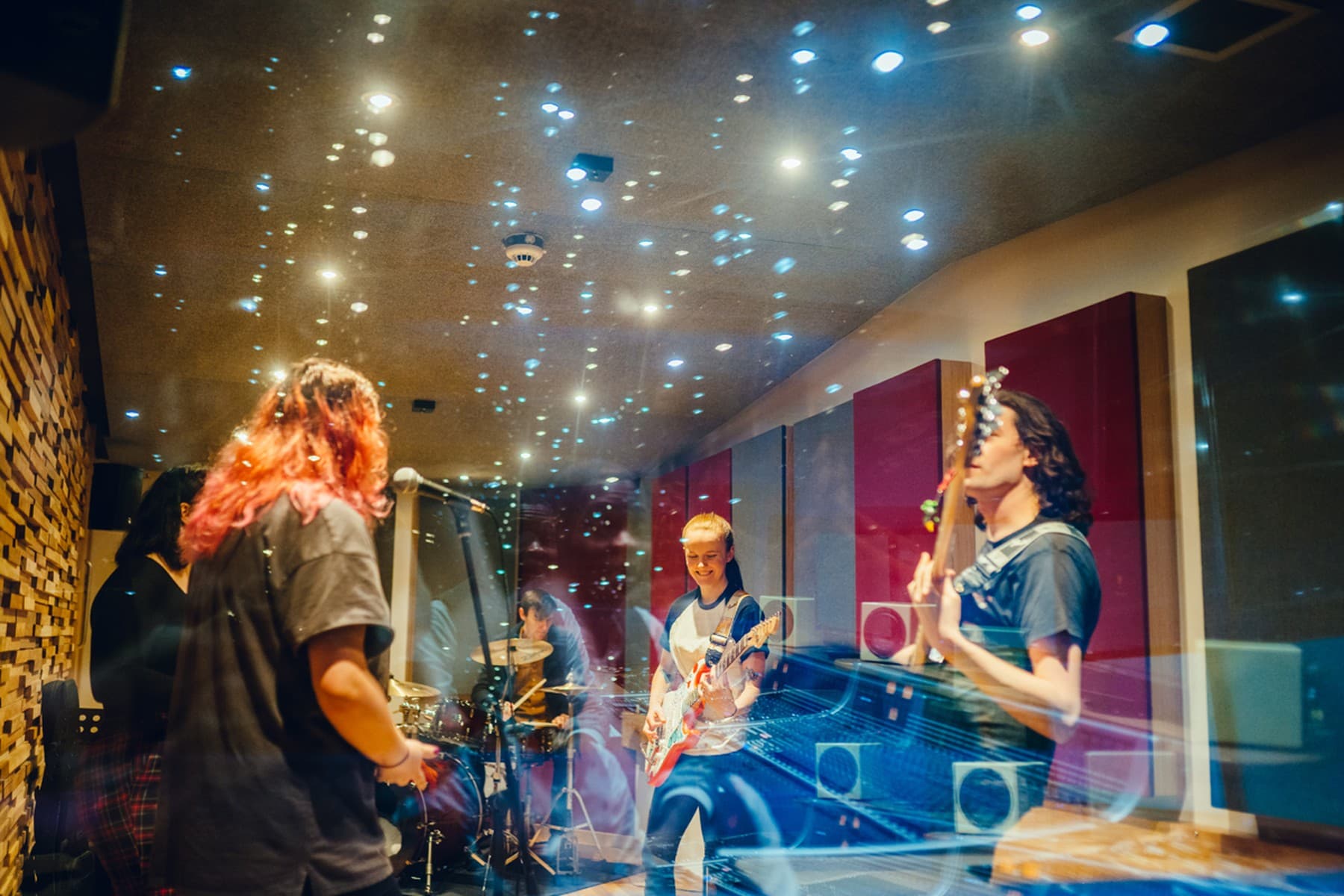 Applying
If you like
BMus (Hons) Popular Music Performance
why not try...