BA (Hons) Music Production
Calling all music enthusiasts and creative minds! Are you ready to study at the heart of a thriving music and media community? Look no further than our BA (Hons) Music Production at Leeds Arts University. Here, we offer a range of practical and creative experiences that will ignite your passion for music and set you on the path to a fulfilling career.
Working alongside our BMus (Hons) Popular Music Performance course, the course focuses on studio production, live sound engineering, original music composition, and sound design – the essential building blocks for your musical journey. We're on the lookout for talented student engineers, recordists, and beatmakers who want to hone their skills and flourish as music production professionals and artists.
Studying BA (Hons) Music Production at Leeds Arts University, you'll dive into the world of recording, mixing, mastering, and crafting music for various media, including video games and sync. We'll equip you with the tools and knowledge to thrive in the contemporary creative industries.
Our purpose-built music facilities are designed to mimic industry settings, offering you an exciting environment to learn and grow. From a 240-seat auditorium to well-equipped recording studios and live rooms, we've got everything you need to make music magic.
With our experienced tutors and industry professionals, you'll gain the technical know-how and creative insights to excel as a Music Producer. We encourage you to showcase your skills through practical study tasks, giving you a taste of real-world experience.
Leeds, with its rich musical history and vibrant arts scene, will be your home. BA (Hons) Music Production at Leeds Arts University offers opportunities to collaborate with fellow musicians, filmmakers, games designers, and more, and build your network from the get-go.
You will undertake workshops, practical production work, lectures, tutorials, seminars, independent study, group work and masterclasses throughout the year.
If you're ready to step into the world of music production, this is your chance. Join us and let's make music together!
This course is Subject to Approval
Fundamental concepts of music production including studio production, live sound engineering, composition and sound design workflows are explored. Practical work is key, so you will participate in hands-on production workshops, engineer sound for stage, collaborate in the recording studio and create new, original music for media whilst receiving expert guidance from experienced staff. The first year also integrates entrepreneurial activity which will underpin your creative and employment ambitions.
BA (Hons) Music Production students have access to bespoke music facilities to support their studies including: 24-track analogue/digital recording studio; fully-integrated studio live/ensemble rooms; auditorium with full live PA and lighting rig and sound-proofed instrumental teaching rooms.
Computer suites house networks of Apple Mac computers featuring regularly updated, industry-standard software for a wide range of creative applications that support all our courses. All suites use equipment consistent with that used in the creative workplace. A purpose-built specialist library is open to all students and includes Digital Collections to enhance the learning experience as well as the University archive. Self service facilities are available throughout, supported by a dedicated and experienced team of library staff.
Graduates will be ready to pursue careers as music producers, beatmakers, DJs, recording engineers, live sound engineers, sound designers, educators, and mastering engineers. Graduates may also continue to postgraduate study.
Connecting you to creative industries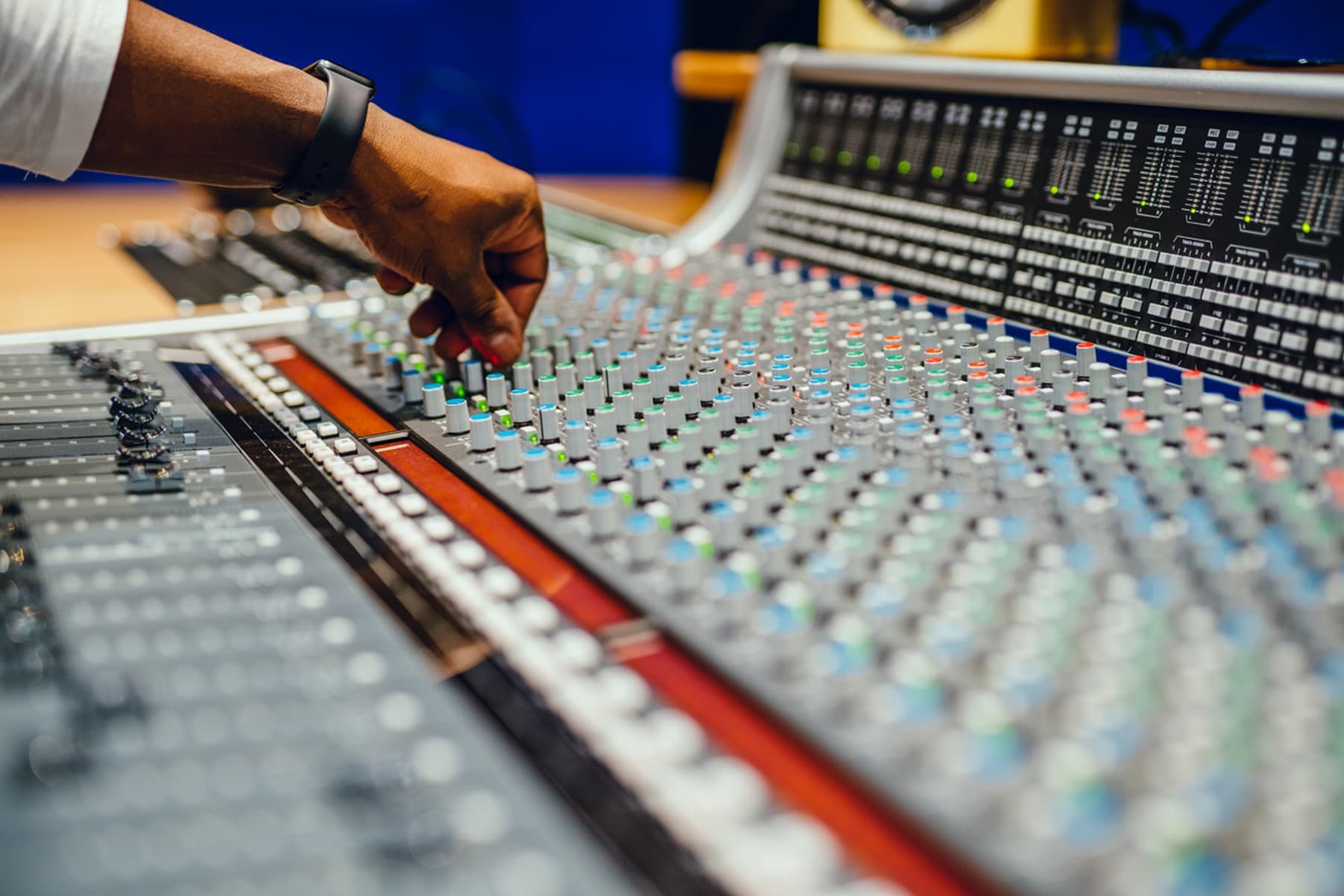 Applying
If you like
BA (Hons) Music Production
why not try...